What does IEQA mean for employers of Estheticians?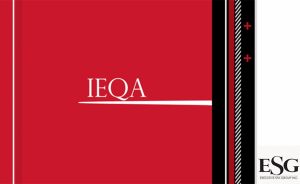 Do you employ Estheticians? Do you know about IEQA?
Internationally trained and skilled service providers add value to your salon/spa.
They can bring authenticity, loyalty, and excellence in customer service.
As an employer, you want to ensure you hire staff you can trust to perform all services using safe and proper techniques.
That decision can be difficult when a candidate has international training credentials – how does it to compare to Canadian education standards?
International Esthetics Qualifications Assessment (IEQA)
can provide assurance when hiring internationally-trained estheticians by confirming that your selected candidate meets technical skills and theory knowledge meets
Canadian standards in regulations, policies, procedures, ethics, health, safety, sanitation and infection control guidelines
.
IEQA's mission is to provide a fair and credible educational assessment service that recognizes beauty industry skills achieved in countries outside of Canada.
How does IEQA determine equivalency?
We provide clear, easy to read, accurate and dependable assessment transcripts for potential candidates trained outside of Canada. In the transcripts we compare:
Estheticians academic documents to Canadian Spa Industry Standards, and
Assess Estheticians' technical skills through a variety of exercises and exams
Trust in IEQA.
Check if your candidates have IEQA transcripts.
Cultivating Alberta's Beauty Industry
Executive Spa Group
(780) 604 2772
executivespagroup.com
Tags: alberta, beauty industry, canada, canadian standards, career and employment centre, equivalency, esg, esthetics, ethics, health and safety, ieqa, infection control, international esthetics qualifications assessment, international training, policies, procedures, regulations, sanitation, spa standards, trained abroad