Beauty Industry Youth Employment Program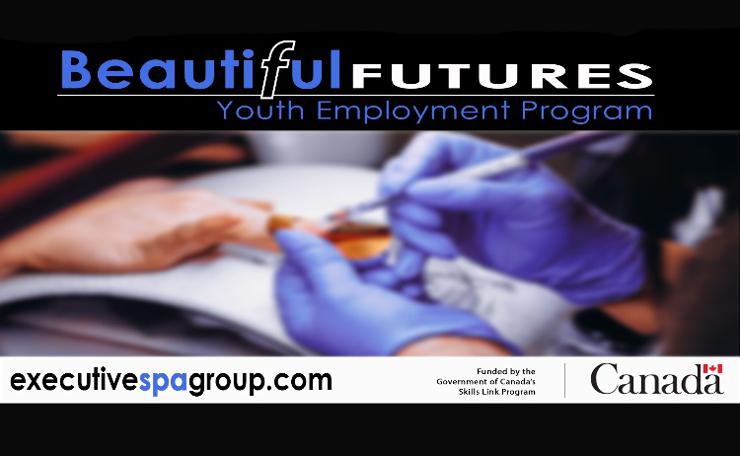 PROGRAM COMMITMENT: JANUARY 28-JUNE 14, 2019
Beautiful Futures has 2 components:
In-class (8 weeks)
M-F; 10am-4:30pm
JAN 28- MAR 22, 2019
You will acquire fundamental skills required for
any
job regardless of industry. However, our goal is to help you gain personal development, life and employment skills, and transferrable skills to take you anywhere you want to go in the beauty industry.
You will participate in Skill Enhancement on
Fridays
. Exposure Certification in Manicures and Pedicures will be awarded upon successful completion of your work experience, training quotas, and passing marks on required exams.
Placement (12 weeks)
35 hours minimum/week
MARCH 25- JUNE 14, 2019
During this 2nd portion, you will gain skills and work experience in entry-level beauty industry-related or retail jobs. Work experience can be completed at different salons, spas, medispas, health and wellness centres, and retail outlets throughout the city.
ESG does not guarantee placement in the beauty industry.
Beauty industry job placements are awarded to participants that show readiness, ability, and willingness to work.
ESG assesses your suitability for different types of employment throughout the classroom component.
NOTE:
Participants must accept the placement assigned to them and must make themselves available for work for a minimum of 35 hours per week. Completion of the Work Experience component of this course is mandatory for certification in the technical training received.
---
Is funding provided for this program?
Yes, funding is provided by the Government of Canada to help cover the cost of basic living expenses while obtaining employment training. Financial assistance is provided to participants throughout the classroom component on an hourly wage at Alberta's minimum wage.
The placement component is a paid work experience. You earn a wage while completing this portion. In some scenarios, the possibility exists to turn the work experience into a permanent position, so make sure to impress your employer! Days of the week will vary amongst employers, but remember, weekends are busy days for the beauty industry, so be prepared to commit!
NOTE:
Do not apply if you are not prepared to work weekends! The Beauty industry thrives on the weekend and weekend work is expected of an entry-level employee.
---
Important note about this program
Because a wage is provided for attending this program and receiving skills training, participants are encouraged to think of the program as work. While this program is intended to help you develop personally and professionally, we have set standards of attendance and performance. Just as with any employer, we adhere to a probationary period and reserve the right to terminate your enrolment in the program if expectations are not met.
---
Who can participate in this program?
ELIGIBILITY CRITERIA:
15-30 years of age at the time of class start date;
Must be interested in joining the beauty industry;
Must be a Canadian citizen, permanent resident, or have been granted refugee status in Canada;
Must be legally entitled to work in Canada; and
Must be in need of assistance overcoming employment barriers.
Must not be working or attending a program/school
EXAMPLES OF EMPLOYMENT BARRIERS
Lack of work history;
Lack of confidence and self-esteem;
Lack of employability skills; and
Other social factors
---
HOW DO I APPLY?
You can
apply ONLINE
to participate in 'Beautiful Futures'. Thank you for your interest.

Tags: alberta, beauty careers, beauty industry, canada, edmonton, employment, esg, funded programs, technical training
Trackback from your site.
ESG
The author, Silvia Sanchez, graduated from the University of Alberta with a B.A. in Psychology and has over 15 years of experience in the career-consulting field.