beauty industry,beauty industry careers,botox,injectables,nurse colleges,regulations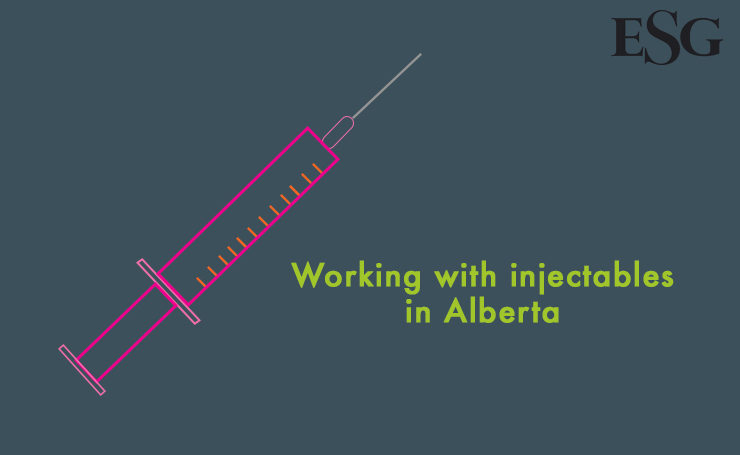 Last November, The National Post reported that Alberta Health aims to eliminate 500 nursing jobs over the next three years in an effort to find efficiency in the budget.
Not surprisingly, we have had nurses come to us for guidance on how they can use their training and experience in the beauty industry.
Nurses working with injectables.
Nurses who join the beauty industry are often interested in offering injectables. Botox and fillers are amongst the fastest growing services in the beauty industry,
Alberta Health asks 3 questions when it comes to injectables:
Who can buy it?
Who prescribed it?
Who administers it?
If you a member of any college of nursing in Alberta (such as CARNA, CLPNA, or CPSA) you have to check with your college to see what you as a member are allowed to administer as a nursing professional.
If you want to provide aesthetic services, there are multiple medispas that hire RNs to administer injectables. For example, some spas work directly with doctors who are able to get and prescribe the injectables and the RN administers it.
Each manufacturer may have their own rules around a physician being present in the facility when injections are being administered. You will have to contact the manufacturers in question and inquire about their specific instructions.
---
Cosmetic Botox® and Nurse Colleges
Botox is a Schedule 1 drug and therefore requires a prescription. Once a prescription has been written, it is currently up to each college to decide whether to allow their members to administer the drug, and under what conditions.
Botox® Manufacturer's instructions
ALLERGAN's instructions for use of Botox generally state that injections can only be given by physicians with the appropriate qualifications and experience in the treatment and the use of required equipment.
Who can buy it?
The sale of Botox is regulated federally. Only certain health professionals can purchase this drug legally.
Illegal Cosmetic Botox
Health Canada says is very interested in any inappropriate sales of Botox®. Alberta Health asks you report any suspected illegal sale of Botox.
Cosmetic Botox® and Alberta Health Violations
Alberta Health is not proposing a policy on the use of drugs in personal service settings, but, if reports arise that Botox is being offered in an unsanitary manner, steps will be taken by health inspectors to correct those violations.
The amended Personal Services Regulation and Standards require an operator using cosmetic Botox to follow any accompanying instructions for safe use.
Alberta Health Inspectors may also take referral steps if an inspector suspected irregularity with the purchase, prescription or administration of the drug. These referrals might be to a regulatory college, Health Canada, Alberta Health or to administrators the Pharmacy Act.
---
Classification of Dermal Fillers
Dermal fillers (Polymethyl-methacrylate microspheres (PMMA) and Hyaluronic Acid) are neither a drug, nor a cosmetic. Rather they are a Class 3 medical device (given how far they are inserted into the body).
Sale of Class 3 medical devices
There are no restrictions placed on these devices by Health Canada as to who can sell them. Some manufacturer's state that the fillers are only to be used by a health care practitioner.
Dermal fillers and Alberta Health
The newly updated Personal Services Standards regulate the use of fillers to require that they carry the product name, a list of ingredients and instructions for safe use. Also, any instructions for safe use must be followed by the operator.
---
EXECUTIVE SPA GROUP
Beauty Industry Resource Centre
(780) 604-2772
info@executivespagroup.com