RENTING SPACE as a Beauty Service Provider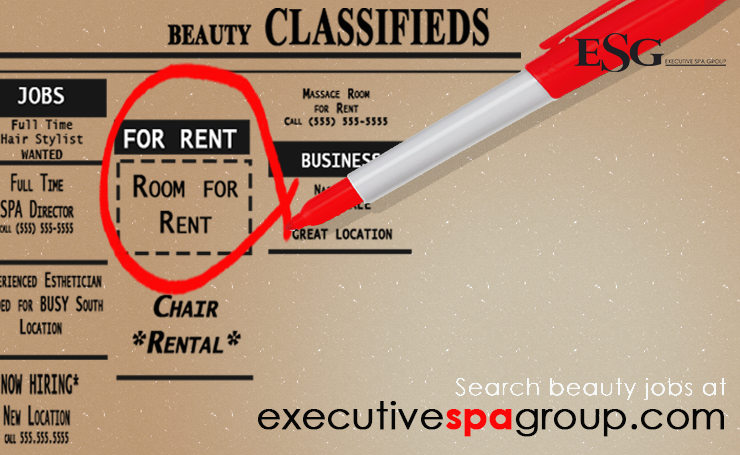 About 70% of our students have long term goals of self-employment. We offer the following advice to our students: Choose your start-up location in a neighbourhood where you see yourself in the long run. Clients will follow if you move nearby 😉
In this article, we review different rental options for budding beauty industry entrepreneurs.
RENTING SPACE IN A SPA or SALON
Renting a room (or chair) in a spa or salon is a good way to get your toes wet in the world of commerce. This option allows a certain amount of independence, it's like renting a room in a house where a family lives. For example, you may be able to set your own hours, but will be limited to their hours of operation.
A benefit of this arrangement is cross-promotion. Renting space from an existing beauty business could give you access to a pool of existing clients. People who rent space in a spa/salon usually do so with the hopes that their business will also be visited by that spa/salon's regular clients. Cross promotion is mutually convenient ONLY when you rent from an establishment that offers different services than you.
Be prepared for conflict if you offer the same services as your landlord!
What can I expect my rental fee to be?
Your rental fee will depend on multiple factors. The location of the establishment and the size of the room you will be renting are primary factors. The best way to conduct your research is to inquire about other places renting nearby (even if you are not interested in those locations).
Also ask what is included in the fee. Things to consider are:
How will your clients pay? Will you be getting your own pos or will you be using theirs?
Will their receptionist be greeting your clients?
Will you be using their washer/dryer?
Who will clean the common areas?
---
RENTING SPACE IN A COMMUNITY
Renting space in a community such as My Lofts or Citizen Salon Studios is a new concept worth exploring! This option is good for service providers with a small-medium client base. It allows for more independence and is an excellent choice for service providers whose goal is to earn a comfortable income.
Renting space in a community is like living in a furnished condo with utilities and amenities included. Rent is understandably higher as it can include equipment, furniture, and services such as online booking and marketing. It also includes maintenance of common areas.
Another pro of renting space in a community is the love and support from your neighbours. You all have something in common- an entrepreneurial spirit and your love for the beauty industry!
On the other side of that coin, your neighbours are also your competitors. There's nothing wrong with a little competition! We advise our students to see competition in a positive light- it keeps us on our toes and reminds us daily to treat our clients like important guests J
---
RENTING SPACE ALONE
Renting a store front space is a goal for service providers who want to run an entire operation. This option requires a larger financial investment and an existing client base.
This option is like renting an entire house for yourself and your family (staff). It is maximum commitment for maximum independence. You are responsible for every aspect of your business.
We do not recommend renting an entire spa/salon in hopes to rent out rooms/chairs while you build your clientele. Do not overextend yourself! What if you aren't able to rent 'that chair' or 'that room' in time?
Making sound financial decisions during the start-up phase is what will take your business into year 2. Try not to rely on credit and keep your overhead as low as possible for as long as possible.
---
Are you interested in self employment? ESG offers short training courses to help you reach your goals one step at a time.
With ESG, you can custom-design your beauty career by taking the courses you are interested in. If you are joining the beauty industry, we recommend starting off with esthetics basics like Manicures and Pedicures or Waxing and Tinting.
EXECUTIVE SPA GROUP
Beauty Industry Resource Centre
Tags: beauty industry careers, beauty school edmonton, career and employment centre, chair rental, small business startup, spa entrepreneurship, space rental
Trackback from your site.
ESG
The author, Silvia Sanchez, graduated from the University of Alberta with a B.A. in Psychology and has over 15 years of experience in the career-consulting field.