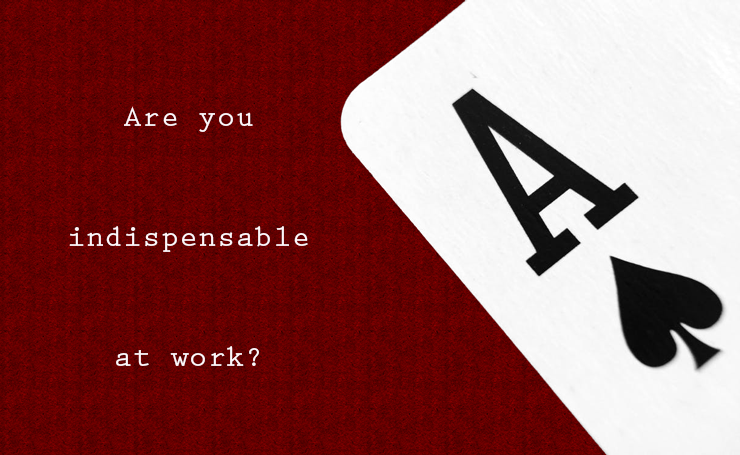 Indispensable Behaviours of an Ace Employee
A guide to job security and being the employee they can't live without.
As we send yet another class off to do their work experience, we hope they recall all the lessons learned in class, in particular, how to be an "ace" employer.
What is it that makes an "ace" employee – and how can you be one?
An "ace" employee is an outstanding, superstar, and most importantly,
indispensable
employee. If you're a job hopper, have seen more termination notices than pay checks, or simply can't seem to get the promotion you want, this article may be worth the read.
What do employers look for in an "ace" employee?
1. Time Management
A massive struggle with most "problem employees" is their time management. Being late every day- even if only 5 minutes, calling in sick constantly, or lack of reliable childcare are huge factors in your employer forming their opinion about you. The mismanagement of your own time has negative consequences for your pay check
and
your team. Team resentment about your unreliability could create a hostile work environment over your workmate's resentment.
When you are being conscious of your time and priorities, your employer will notice your reliability and trustworthiness. Key holder responsibilities are given to those who earn trust. These responsibilities sometimes come with a pay increase, but are
always
a step in the right direction to growing your career. Having control of your time management is a MUST, especially in the workplace.
So how can you improve your time management skills? Here are some tips from an "ace" employee:
Analyze why you're always running late. Is it due to lack of planning?
Organizing yourself the night before will better prepare you for the next day.
Getting enough rest and taking care of your body will generally help you wake up without six alarms in the morning.
Plan for the road conditions – if you see it's about to snow in the weather forecast, think about leaving earlier the next morning.
Tell yourself that your shift starts a half hour earlier than it does. Wouldn't you rather have time to prepare for your day at work instead of rushing in and feeling overwhelmed? Vince Lombardi famously said, "If you are five minutes early, you are already ten minutes late"
2. Initiative
When you see something that needs to be done at work, do you automatically do it?
If not, you may not be taking enough initiative in the workplace. Managers love employees that do necessary tasks without being asked.
"It's not in my job description" should absolutely be eliminated from your vocabulary, unless it puts your personal health or safety at risk. Superstar employees go above and beyond when they think no one is watching. However, a good employer is always watching and taking notice of their value. Unlike employees who only go above and beyond when they think they may benefit from the situation, these superstars have higher job security during slow times.
3. Intuition
Anticipating needs is an incredible form of intuition that makes the whole day more productive. An ace employee will foresee a future event and prepare for it. This could be setting out tools that you know you'll use, or having the coffee ready when you know there's an early meeting. Your preparation and your willingness to see your team's needs before they do is going to make the day run smooth and make you stand out from the crowd.
So how can you improve your intuition? Here are some tips from an "ace" employee:
Challenge yourself when you start getting bored.
People quit their jobs because they get tired of the same routine. An easy way to create a fun and dynamic workplace is to create a job for yourself when you feel things are stagnant.
See a void in the system? Think up a way you can increase efficiency
Ask someone if you can help with their project
Always get clearance from your manager before starting any additional projects, and make sure you can handle your regular obligations as well as your new responsibility
Knowledge is power!
A challenge most managers face is not having enough dynamic employees to be able to delegate tasks to. An employee that has experience in different areas is extremely valuable. A superstar staff is made of different people with different strengths – and there are ways to diversify your skillset.
Check to see if there is a product knowledge course you can take to better familiarize yourself with the stock at your workplace. If not, a quick Google search could reveal lots of information you didn't know- just make sure the source is credible
Additional courses in your spare time can increase your skillset. Talk to your manager about furthering your education – you'd be surprised at the support some employers offer to employees that take the initiative to learn more about their industry. With that being said, take every course offered to you for free by the company (especially if it's optional!). Some courses can seem boring or not related to your day-to-day, but you never know when that additional information can become useful
Ask a colleague if they can show you how they perform a task. There is more than one way to do things. Although your way may work for you, you may learn something new.
Work ethic doesn't come automatically. It has to be learned and developed through self-discipline. Following these tips will demonstrate to employer your strong work ethic and make your work day more enjoyable. Most importantly, it will show your employer how indispensable you are!
Executive Spa Group
(780) 604 2772
info@executivespagroup.com