Manis and Pedis: A Good Skill to Learn.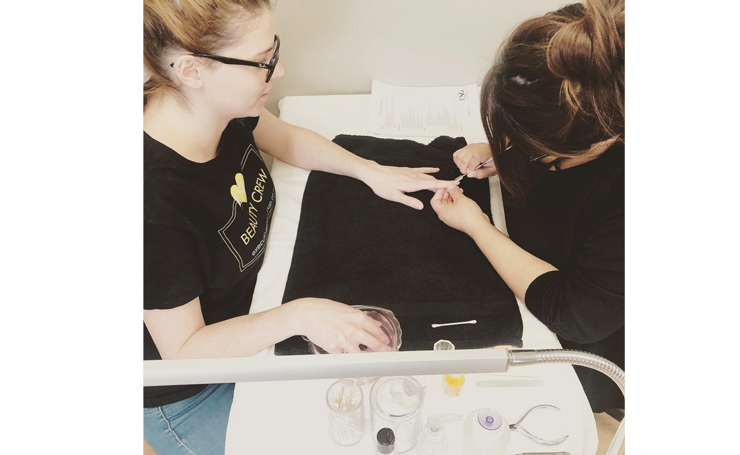 Why are manicures and pedicures a good skill to learn?
…because there is more to Manis and Pedis than painting nails! Nail Technicians require knowledge in the muscular and skeletal system, knowledge in nail anatomy and diseases, as well as fine motor control skills.
Offering Manicures and Pedicures as a service requires your awareness and responsibility in keeping up with facility requirements and infection control.
It's not all science though, you also get to paint nails!
Let your imagination run wild! Your Nail Art is your signature.
TIPS ON MARKETING YOUR SERVICE…FOR FREE
We wish you much success as you embark on offering this new service. Remember, word-of-mouth is the best form of advertising.
After careful psychological analysis, we concluded that a relaxing massage is amongst the top steps in your procedure to be remembered and bragged about by your clients.
Developing your massage routine will come with time as your confidence grows. We like to prepare you with a repertoire of moves to get you started on a budding beauty career!
Effleurage: Light – medium pressure is applied. Flowing pressure directed towards the core. Used to warm the muscles and connective movement between steps.
Petrissage: Medium – heavy pressure. Kneads muscle over the underlying bone. It aids in relieving pressure, tension, and heat the muscles.
Vibration: Quick shaking motion with med-heavy pressure. Loosens the muscles and relieves tension.
Percussion: Fast hacking or pounding motion using with firm pressure. Muscles are "shocked" into releasing tension. Incorporated into end of the massage.
Friction: Medium – heavy pressure. Rolls muscle against muscle itself. Aids in relieving pressure, tension, and heats muscles.
Learn this and so much more! Register for our Manicures and Pedicures Course.
Tags: beauty careers, esthetics training, manicures and pedicures course, manicures and pedicures training, spa jobs, yeg esthetics courses