EMPLOYMENT INSURANCE AND CHAIR RENTERS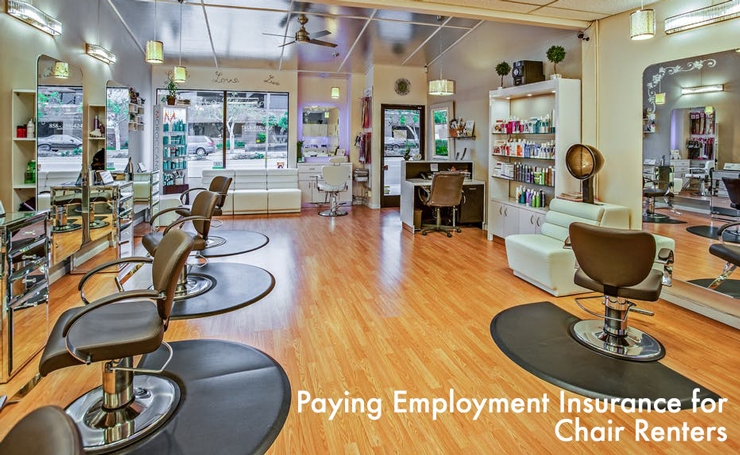 DO I HAVE TO PAY EI FOR CHAIR RENTERS?
Did you think Employment Insurance and Chair Renters would never come up in the same sentence?
CTV NEWS Saskatoon did a report on how salon owners that rent our chairs are impacted by Employment Insurance fees imposed by the Canada Revenue Agency (CRA).
The report focuses on Stacey Zielinski , owner of The Beach Beauty Bar in Martensville, Saskatchewan. Like many others, Stacey was under the impression that chair renters are independent contractors and therefore are not governed under employment laws and regulations.
Luckily for Zielinski, her tab was not too high, as only 1/5 hairstylists was a chair renter. This got us thinking though, how does this impact the industry?
What does this mean for salon owners who only rent out chairs?
Renting out chairs to hairstylists has always been an attractive option for salon owners. Renting out chairs produces consistent income, removes employee-related issues, and was formerly believed to eliminate the cost of wages and MERCS.
It is widely believed that the salon owner does not pay money to the renter; but they do however collect money from the renter. Typically, the hairstylist pays a monthly fee to offer services to their growing clientele from an already established salon.  In exchange for this fee, the salon owner allows use of the chair and fixtures during operating hours.
Contrary to popular belief, salon owners are liable to pay Employment Insurance fees to the CRA for chair renters. Normally, independent contractors from other industries are not eligible for EI, however, there is an exception for barbers and hairstylists.
Normally, EI is paid to employees based on the hours worked per pay period. Because chair renters dictate their own hours, the CRA calculates EI fees on the number of days the chair renter offered services in the establishment.
Why is there an exception for barbers and hairstylists?
As it was explained by a CRA representative, this exception was put into place to secure the income of a hairstylist in the event that the salon owner is no longer able to provide the chair renter with a space to work from. Examples are salon owners who are evicted from their rented space or go out of business.
What is the difference between independent contractors in the beauty industry versus other industries?
Nothing really. We searched for answers but could not find a clear explanation for this exception.
The exception to the exception.
While a salon owner must pay the employer portion of EI fees for independent contractors, this fee is eliminated IF the chair renter is incorporated.
What is the difference between a sole proprietorship, a partnership, and a corporation?
All of the above are forms of entrepreneurship. They differ in a few ways including the annual costs and taxes payable to the CRA. The main difference is that in a sole proprietorship or partnership, the business is an extension of you (and your partners if applicable) whereas a corporation is viewed as an entity external to you. It even has its own SIN, however, it's called a BN (Business Number).
There are many benefits to registering your business as a corporation. Learn more.
Where does this legislation come from?
It is believed that this legislation was created to protect the income of women and single mothers based on the occupation's demographic at the time the legislation was created.
Two conditions apply to this employment insurance regulation:
The barber or hairstylist offers services out of the establishment.
The barber or hairstylist is not the owner of the establishment.
What if the salon owner also owns the building?
Unfortunately, it doesn't matter. Salon owners who own the building must also pay EI fees.
What if the hairstylist does not pay EI?
Unfortunately, it doesn't matter. The onus is on the salon owner to pay the employer portion of a chair renter's EI whether or not they pay their own premiums.
Does this legislation affect room rentals for esthetics services?
No, this legislation only applies to Hairstylists and Barbers at the time this article was published.
---
EXECUTIVE SPA GROUP
Beauty Industry Resource Centre
(780) 604 2772
Tags: alberta, canada, chair rentals, chair renter, ei, employment insurance
Trackback from your site.
ESG
The author, Silvia Sanchez, graduated from the University of Alberta with a B.A. in Psychology and has over 15 years of experience in the career-consulting field.