Employee vs Contractor -Beauty Industry Staff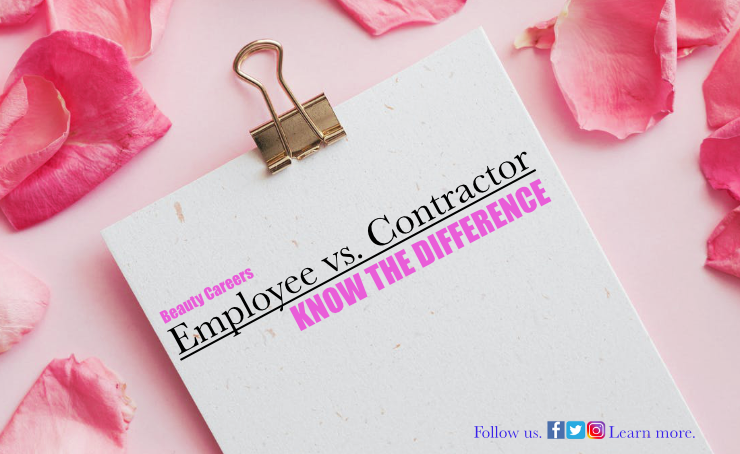 Defining the difference
An employee works under an employee/employer relationship.
A contractor carries out their work under an independent business/contractor relationship.
Chair renters and room renters are self-employed.
Four major differences
We will explore 4 different categories to help you understand the difference between an employee vs contractor:
1. Working Conditions
👉 Pay Schedule
Employees are paid a wage, commission, or a combination on a regular schedule.
Contractors are usually paid solely on commission and receive payment after submitting invoices.
On the other hand, chair or room renters pay a monthly rent to the salon/spa owner.
👉 Training
Generally, the employer pays for an employee's additional training. Meanwhile, contractors pay for their own training costs.
👉 Hours of Work
Chair or room renters may work during their hours of choosing within the salon's hours of operation.
In contrast, the employer determines an employee's hours of work.
2. Tools and Equipment
All necessary tools and equipment are provided and maintained by the employer. However, employees can choose to work with their own tools.
A good service provider will extend the life of any tool or equipment by using it properly and sanitizing it after every client.
On the other hand, contractors provide and maintain their own tools and equipment. Moreover, chair or room renters rent space to provide services.
3. Taxation Deductions/Reporting
A contractor's pay does not include tax deductions. Subsequently, contractors submit their own federal and provincial tax deductions to the CRA.
On the contrary, an employee's pay includes deductions. After that, deducted taxes are submitted by the employer to Canada Revenue Agency (CRA).
SPECIAL NOTE: It is the salon owner's responsibility to pay EI employer premiums of chair/room renters.
Employees do not collect GST from their clients. Chair or room renters must collect and remit GST if their gross annual revenues reach over $30K.
4. Employment Laws
Alberta's Employment Standard Code entitles employees to general holiday pay, overtime pay, and minimum wage, in addition to some other benefits.
Unlike employees, the Alberta's Employment Standard Code does not protect contractors.
In conclusion, there are major differences between an employee vs contractors.
---
EXECUTIVE SPA GROUP
Beauty Industry Resource Centre
(780) 604-2772
info@executivespagroup.com
Tags: alberta, alberta employment standards code, beauty industry, contractors, employees, employment, job vacancies, staff
Trackback from your site.
ESG
The author, Silvia Sanchez, graduated from the University of Alberta with a B.A. in Psychology and has over 15 years of experience in the career-consulting field.