Resume Bank for Employers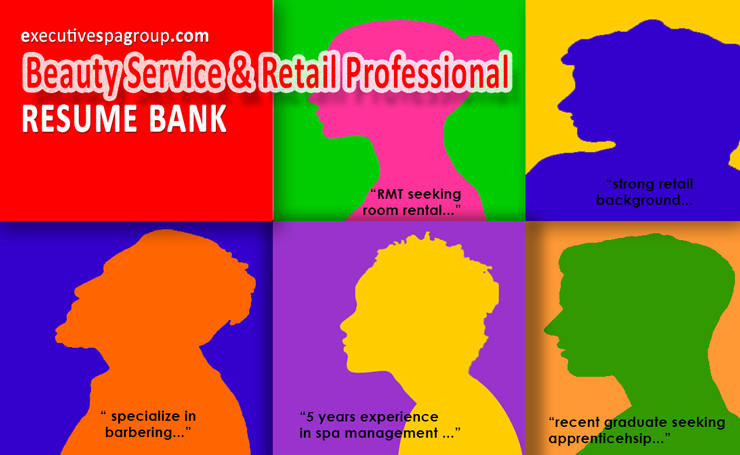 Beauty Service and Retail Professional Resume Bank
ATTN: Alberta Beauty Industry Employers
We know it's hard to find dependable staff.
Our mission is to cultivate Alberta's beauty industry by connecting employers with service providers in order to meet their staffing needs.
Our Professional Resume Bank is one of the tools we use to accomplish our goals. This resume bank is a free service to both, employers and workers, dedicated to maximize success rate of meeting staffing demands.
Don't get swamped with ineligible resumes! Cut time with ESG's Resume Bank. Our resume bank allows you to browse anonymously and search profiles by industry skills.
Not only does this save you time, it also protects your privacy by avoiding constant job postings on job banks where not only your competitors see your hiring activity, it also sends a message to Service Providers that you are unable to keep staff (whatever the reason may be).
How does the Resume Bank work?
Service Providers and support workers all over Alberta upload their resumes to maximize their exposure to hiring employers. All pertinent information is available, such as education and experience, and most importantly, all the technical skills (services) they are certified to perform.
Though ESG asks all individuals to only include skills for which they are certified to perform, we recommend always conducting your own background check and confirming documentation.
Employers are able to browse and review profiles on the Resume bank after creating an Employer account. If you find any profiles you are interested in, submit your interest directly to them. We recommend always meeting for interviews in a public place.
Why are the Resumes discreet?
The resumes are discreet to protect the identity and privacy of Service Providers all over Alberta.
To use the Beauty Service and Retail Professional Resume Bank, simply visit executivespagroup.com and create your employer account.
Executive Spa Group
Cultivating Alberta's Beauty Industry
(780) 604 2772
executivespagroup.com
Tags: alberta, beauty jobs, canada, candidates, contractors, employees, employment vacancies, help wanted, hiring, job vacancies, now hiring, portfolios, resume bank, resumes, service providers, staffing
Trackback from your site.